Event recap: Talking WiFi guarantees, installations, and experiences with Wi-Fi NOW
Published by RouteThis Team on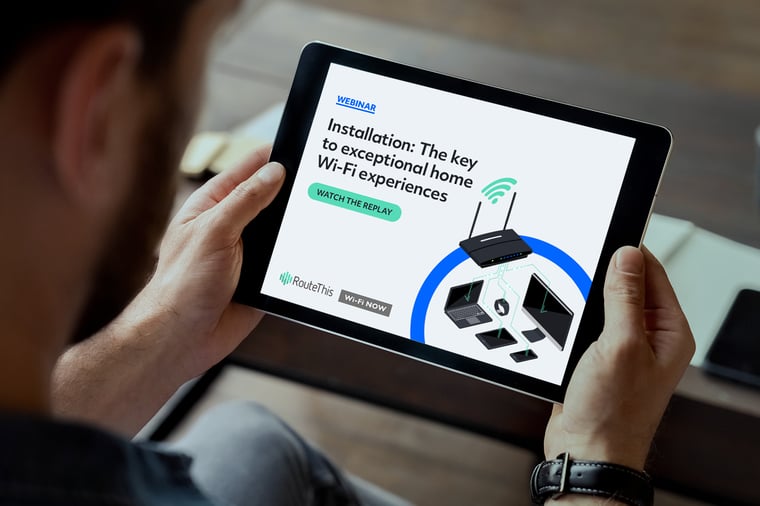 Lately, we've been talking a lot about the mildly controversial issue of WiFi promises. As an ISP, that's something you want to be able to deliver to your subscribers, because it means they're getting top-tier service—but it's much easier said than done.
Just this week, following closely on the heels of our big announcement, we held an exclusive event with Wi-Fi NOW to explore the issues surrounding WiFi experiences—including why WiFi guarantees are so attractive and what ISPs can do to actually deliver them.
If you weren't able to attend the event, which featured data and expertise from Adlane Fellah of Maravedis, LLC, Matthew Fane of Telus, and our own CEO Jason Moore, here's a quick recap of the session—and you can watch the full recording here.
Why do ISPs need to look seriously at WiFi guarantees?
Let's open with a fact. According to Fellah's research, the vast majority of residential broadband subscribers experience their service primarily through WiFi. To most ISPs, this isn't entirely a surprise; but it has created an environment that requires adaptation.
Because of this new environment, ISPs face issues that require them to consider WiFi service in addition to their other priorities.
First, there's an ever-increasing amount of competition for ISPs. As Fellah explained, the overwhelming majority of ISPs in the U.S. cover a limited portion of the overall population. They don't have large market shares, and they need to be able to maintain them.
Second, the U.S. has poured billions of dollars in grants into improving the industry's infrastructure, which has created the perfect environment for new startup ISPs to emerge.
And third, broadband speeds have skyrocketed in the last few years. In 2015, for example, only 11% of internet speeds were 100 Mbps or higher; by the end of 2019, that number had almost reached 67%.
"The more speeds that come into the home, the more likely it is that WiFi becomes the problem; the bottleneck," Fellah explained. "With more broadband available, speeds no longer provide differentiation for providers, and WiFi becomes more important to deal with."
What's standing in the way of effective WiFi guarantees?
According to a recent study by Maravedis and RouteThis, only about 27% of providers in the U.S. offer any kind of WiFi guarantee. To make matters worse, close to 33% report being only somewhat (or less) confident after installation that subscribers will have good WiFi experiences, and 30% reported that they can't identify whether subscribers need pods after an installation.
Ultimately, as Fellah explained, this presents two detrimental issues for ISPs:
Even in a case where the subscriber has CPE, ISPs don't have enough visibility into that unique network to identify possible issues

This leaves subscribers more vulnerable to WiFi issues that will be expensive and time-consuming to resolve later
The bottom line? Delivering a WiFi guarantee could help ISPs cut down on issues and costs, but they don't currently have enough visibility to be able to offer that to subscribers.
One ISP's experience with WiFi guarantees: Telus
As Fane explained in the event, Telus—a major carrier in Canada—has recently undergone "a bit of a pivot" to actually offer a WiFi guarantee to subscribers. Through what Fane calls WiFi as a service, the team at Telus is committing to getting WiFi into every corner of subscribers' homes.
According to Fane, it's difficult to understand how WiFi needs translate into hardware—which supports the findings from Fellah's research. There are just too many variables that can cause issues for WiFi networks, and without knowledge of this ahead of time, it's next to impossible to create any consistency in WiFi experiences.
For Telus, the key was to explore how they could identify a subscriber's specific needs at the moment of installation. This way, they could patch up the mismatch between what subscribers expect and what they receive.
"Where we're looking to evolve that experience is making it more consultative. Everybody's WiFi needs are different—so we're engaging customers in that process both upfront in terms of defining where coverage is important to them, and perhaps making some tough trade-off decisions," said Fane. "But what's really important in our experience is how we communicate that to customers."
Establishing total visibility for a consultative approach
Despite just over a quarter of U.S. ISPs offering a WiFi guarantee to subscribers, it's a growing trend. And as Moore explained, it's a pivotal one in the future of the industry; for these businesses to have any major impact on churn rates, they're going to need to consider how they can deliver on subscribers' expectations.
And with that in mind, Moore unveiled an entirely new solution: RouteThis Certify. As Moore explained, it's up to ISPs to support WiFi in the eyes of consumers—and that starts with network installations.
"The installation really sets the tone for the entire subscriber experience, and sets your customers up for the best possible WiFi experience," Moore explained. "If you don't get the installation right, you're opening yourself up as a business to a number of problems down the road, including early-life churn, increased support costs, and more repeat visits to fix install issues."
Certify is designed to give field technicians enough visibility into each unique home network, so they can take a subscriber's WiFi needs and effectively translate that into the right types and quantities of hardware. It also helps technicians illustrate the effects of device locations on a network, so they can, say, show a subscriber who wants to put their router in the ductwork of their home—a true story that Moore shared in the event—why that idea won't work.
This product came from a place of saying, 'How can we help organizations to know they truly do have guaranteed WiFi on the install?'
Jason Moore, CEO, RouteThis
In fact, as the panel discussed, Certify has been a core component of the new WiFi guarantee Fane's team is offering—and though it's still in the pilot phase, the team has high hopes.
Want to learn more about how Certify works? Get all the details here.