How 5 ISPs transformed support and operational efficiency with RouteThis
Published by RouteThis Team on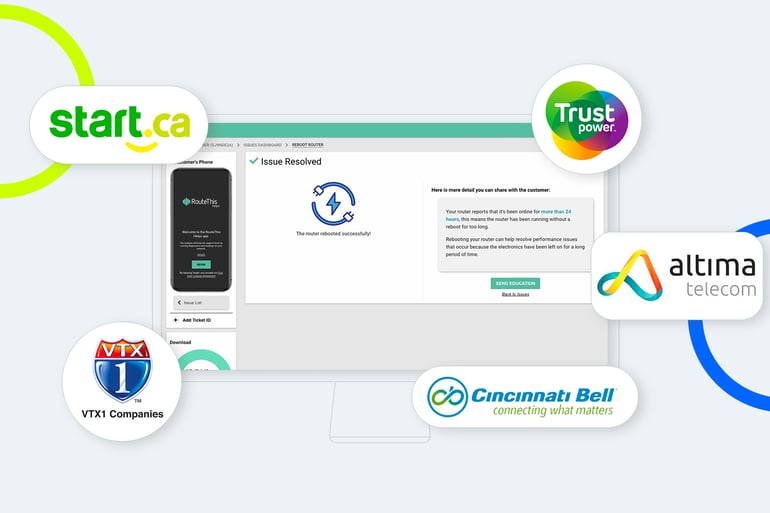 Did you know? On average, WiFi support calls for ISP teams take 26 minutes to resolve. These calls cost up to $45 per interaction and cause almost 50% of truck rolls—which then cost an additional $130 per interaction.
It's clear that efficiency is a major struggle for ISP support teams. With the right technology, though, it's entirely possible to cut back on what's causing your team's inefficiency, and reclaim both your team's time and budget.
Let's explore how five inventive ISPs achieved support efficiency using the RouteThis platform.
Discovering problems and root causes through analysis
One of the biggest pain points ISPs today face is trying to discover the root cause of a subscriber's network issue. Without complete visibility, it can be difficult for agents to find the issue—which means calls take longer, subscribers are more likely to call in multiple times, and the team's overall efficiency slows down.
With its software-based approach to network diagnostics, including the ability to reach into any network regardless of CPE, the team at Altima Telecom used RouteThis to transform how they identified issues for subscribers.

Since we've been using RouteThis, it's been easier to see what the problem is. We used to have to tell customers that their router was the problem, and that was it. Now, we can connect directly to the router, whether it's ours or not.
Technical Support Lead, Altima Telecom
Seeing what's happening in subscribers' homes
Without visibility into the subscriber's physical setup, it's impossible for an agent to identify issues like improper placement or cabling issues—which usually ends in an expensive truck roll.
The team at Cincinnati Bell needed a way to identify physical issues remotely, so they could quickly collect all the information they needed—and prevent unnecessary truck rolls.

Prior to having RouteThis, if the customer was upset because we told them [their internal network] wasn't our responsibility, we'd send a dispatch. Once we started using RouteThis and we could give the customer these diagnostic results, we could explain to the customer why their performance was poor and try to help them through the problem without a dispatch.
Chuck Moore, Operations Manager, Cincinnati Bell
Automating troubleshooting with resolution workflows
Resolving WiFi connectivity issues is a complex if/then process. Agents need to remember all the given steps for a particular issue based on which devices are involved—and then, they need to be able to guide subscribers through each one of those steps, too.
With the RouteThis platform's ability to identify all relevant equipment and settings, and then guide agents through resolutions with step-by-step prompts that show up on subscribers' devices when they need to do something, too, the team at VTX1 was able to reduce the time they spent on each call.

We are thrilled to add RouteThis to our resource toolbox. Now, we no longer need mile-long lists of step-by-step instructions that most users would likely refuse to follow. RouteThis will give our support personnel the ability to run through all the required troubleshooting tests—and diagnose customers' WiFi issues—in record time.
Sebastian Ivanisky, CTO, VTX1
Helping subscribers understand their networks
It's no secret that subscribers don't understand their home networks—and that's a frustrating situation for agents that can turn what should have been a quick call into a half-hour teaching session.
With the right resources to educate subscribers about why issues happen, and clear visuals that guide them through resolutions, the team at Start.ca discovered they could use RouteThis to speed up the education process—and prevent repeat calls.

With RouteThis, when we were getting information back, we could articulate that really quickly to the customers. It helped us educate the customer and get them on board because they could see that we were seeing real information, not just patching things together from probing questions.
Dave Robson, Customer Experience Manager, Start.ca
Empowering users to troubleshoot issues on their own
Users want to self-resolve their issues—and almost 70% of them will try before ever contacting support. The team at Trustpower understood, and introduced a method for their subscribers to run independent diagnostics scans through an app that then delivered specific troubleshooting steps for users to follow. With RouteThis Self-Help, Trustpower ultimately deflected 47% of their inbound support calls!

It's been great to see customers empower themselves with the [RouteThis] platform to resolve issues without calling in; it's been and continues to be a fantastic tool that our customers can use and in many instances alleviates the need for any onsite visits!
Steve O'Donnell, Assurance Manager (Telco), Trustpower