How to solve WiFi connectivity headaches for home security customer support
Published by RouteThis Team on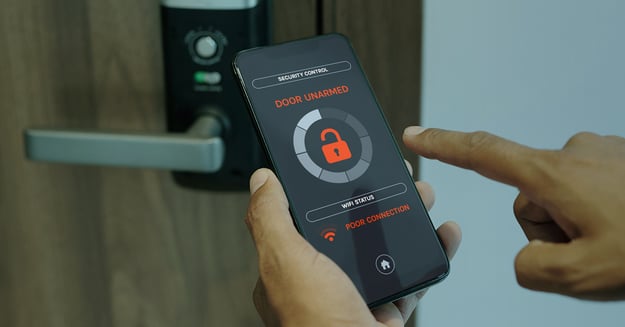 In today's connected world, security devices have become an integral part of our lives, providing peace of mind and protection for our home and family. Whether it's surveillance cameras, ring doorbells, or other home security products, these devices rely heavily on a stable internet connection to function effectively.
In fact, one of the top reasons users experience frustration with home security devices is the inability to connect to their home internet. However, resolving connectivity confusion for home security devices does more than just alleviate customer frustration; it also provides a variety of benefits for customer support agents.
Reduce resolution times with WiFi visibility
When customers encounter connectivity problems with their security products, they often turn to the device manufacturer's customer support team for assistance. Yet, resolving these issues can be a daunting task due to the lack of visibility into the customer's home network. Customer support representatives are typically unable to remotely diagnose and troubleshoot WiFi connectivity problems, leading to long resolution times and heightened frustration, which customers often take out on support agents.


Improve security subscription services
In addition to providing security, many security companies offer subscriptions for ongoing monitoring services, providing a steady source of revenue. However, without a reliable internet connection, the security products cannot communicate with the monitoring system, rendering the subscription service ineffective. This connectivity barrier not only impacts the customer's experience, but also hampers potential future profits for security companies.


Enable mission-critical monitoring with 24/7 connectivity
Perhaps the most critical aspect of WiFi connectivity issues impacting security products is the potential failure of these devices when the connection falters. Whether it's a surveillance camera, a doorbell camera, or a smart lock, these security products heavily rely on the internet for real-time monitoring, remote access, and emergency notifications. If the WiFi connection is unreliable or intermittent, the devices may fail to provide the intended level of security, leaving customers vulnerable to potential threats.


Revolutionize home security customer support with RouteThis
At RouteThis, we have helped a number of home security manufacturers solve connectivity confusion for their customer support teams. Our innovative solutions reliably address the pain points of WiFi connectivity issues faced by home security customers.

With RouteThis Core, security manufacturers can now equip their customer support teams with the tools they need to proactively identify and resolve WiFi connectivity issues. RouteThis securely and safely enables security customer support agents a way to remotely troubleshoot, diagnose, and resolve connectivity issues significantly faster. The platform enables enhanced visibility into customers' home networks to ensure a more efficient and satisfactory support experience, leading to higher customer satisfaction and reduced churn.

Customers also can download the RouteThis Self-Help app, which securely analyzes network data and empowers customers to solve WiFi connection issues themselves, eliminating the need to contact customer support. With this smart support tool, home security manufacturers can drastically reduce support calls, allowing support agents to focus their time on more complex cases.

Moreover, by leveraging RouteThis, security companies can boost their subscription sales and monitoring services. With improved connectivity and faster issue resolution, customers can enjoy the full benefits of their security products, including seamless integration with monitoring systems. This, in turn, enhances the value proposition of subscription services and drives increased revenue for security companies.


The headaches of WiFi connectivity issues are a thing of the past
WiFi connectivity issues pose significant challenges for home security users, manufacturers, and security integrators alike. The lack of visibility into customer home networks results in prolonged resolution times, frustrating consumers and burdening support agents. Additionally, the inability to connect security products to the internet hampers the sales potential for subscription-based monitoring services. Most critically, when connectivity fails, the security products themselves become ineffective.

Fortunately, RouteThis offers a game-changing solution, empowering security manufacturers' customer support teams with deep network visibility and remote troubleshooting capabilities. Contact us to find out how RouteThis can help you enhance customer support, reduce resolution times, and drive home security customer satisfaction.