How top ISPs improve their bottom line with RouteThis
Published by RouteThis Team on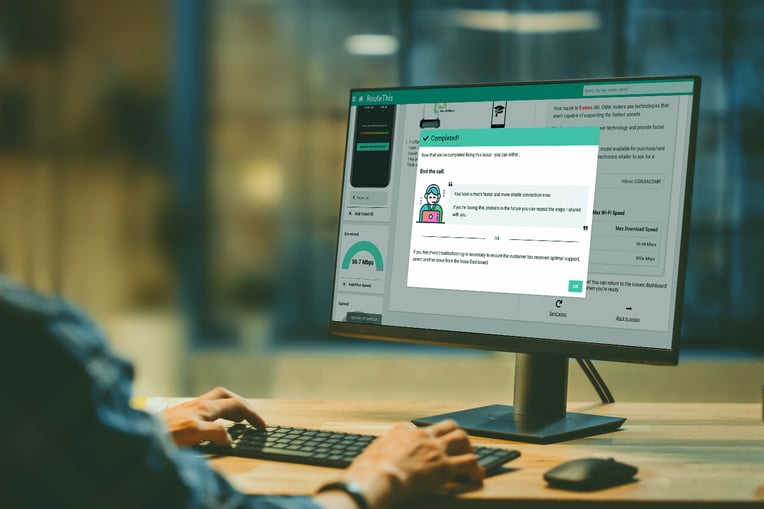 As a business, today's ISPs want to be able to improve their bottom lines, and that's the responsibility of every department. But even with so many viable options—from operational savings to increasing the average revenue per user (ARPU)—it can be a big ask for any service provider.
Today, let's explore how leading ISPs are improving their bottom line—and increasing their ARPU—using the RouteThis platform.
Offering premium WiFi and troubleshooting services
Consumers have high expectations when it comes to customer service, and their ISP is no different. In fact, studies have shown that 58% of consumers would pay more for their internet if it meant consistent WiFi throughout their homes.
ISPs have turned to methods for improving the overall WiFi experience—including managed WiFi and premium troubleshooting services.
Typically, this is done through managed hardware, but that can add significantly to an ISP's expenses.
When the team at VTX1 was considering how to implement managed WiFi services for subscribers, they knew that hardware would be a long, drawn-out process. So instead, they looked at how they could deliver that extra value to as many subscribers as possible, as soon as possible.
They ultimately decided to introduce the RouteThis platform, which, as CTO Sebastian Ivanisky explained, helped them get to the end goal much faster than waiting to roll out devices to every subscriber. It also helped them save expenses both in terms of hardware and the time, effort, and truck rolls needed to resolve WiFi issues.
"We know that [RouteThis] has helped us with the truck rolls, and it's augmented our main brand among our customers by providing quicker responses. It adds value on the customer experience side as well, which in the long run will turn into more revenue."
Sebastian Ivanisky, CTO, VTX1
Offering service upgrades
Did you know? On average, a home over 1,500 sq. ft. will need at least two extenders for complete WiFi coverage—but subscribers will only agree to install them about 10% of the time. After all, if they don't understand why they might need that device, they tend to get suspicious of an upsell attempt.
For Cincinnati Bell, visibility into the home network—and the ability to monitor each individual device's connection to the subscriber's router—using RouteThis was the door opener they needed to have those conversations.
"Being able to see the connection quality of different devices to the router based on the distance is great, and having this information opens up the conversation to suggest premium services and devices for our customers."
Charles Moore, Operations Manager, Cincinnati Bell