We've raised $25 million to better support you, our ISP and smart home partners
Published by Jason Moore on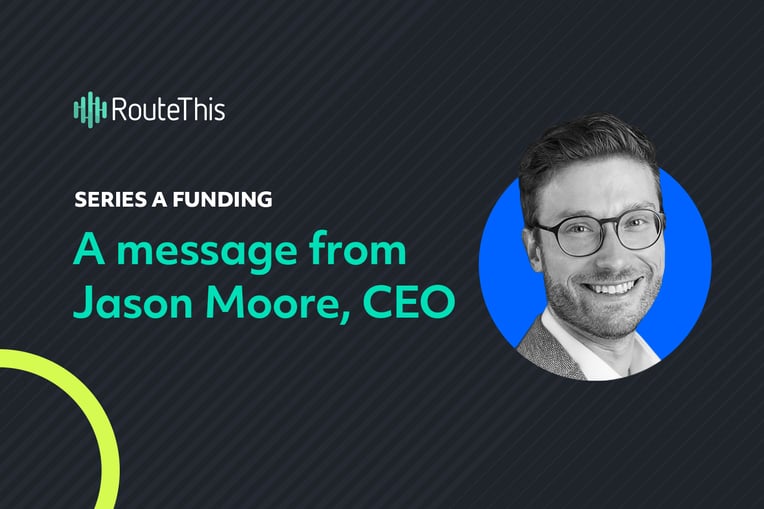 Today is a big day for the team here at RouteThis, but it's an even bigger day for our service provider and smart home partners around the world.
This morning, we announced our Series A raise of $25M, led by Inovia Capital and with participation from Intel Capital, Round13, Garage Capital, and Ken Miller Capital, we have successfully completed our Series A funding round, raising a grand total of $25 million. With these funds, we can accelerate our mission to help service providers and smart home brands deliver flawless WiFi connectivity to their customers.
The mission behind our Series A round
Ultimately, our world isn't what it used to be. We recognized that it's rare for most people to go any length of time without experiencing connectivity issues; our society depends on quality connections for work, education, socialization, and entertainment. We rely on WiFi for our favorite shows, our music, and even our homes. When those connections don't work properly, it leaves people feeling powerless.
At RouteThis, we've always understood that our role in the industry means we have the potential to impact the lives of millions. In that position, it's not always enough to go through rapid growth; sometimes you need to take active steps to accelerate that growth.
That's why I'm so thrilled about the completion of our Series A round, which brings together investors with a track record in industry-leading technology and expertise in WiFi connectivity.
We already have big plans for this round, and are in the process of investing into expanding our team, enhancing the products we have on the market, supporting our customers, and introducing new technologies.
As I mentioned, we're already putting our Series A funding round to work—which leads me to our second piece of major news today: Our first product line focused on proactive issue resolution, RouteThis Certify.
We spent a lot of time in 2021 identifying what the average consumer wants from their home connectivity (and what they don't want). What we discovered is that they don't just want quick and easy ways to fix issues when they happen; ideally, they want to avoid those issues to begin with.
We built RouteThis Certify to give ISP field technicians the ability to root out potential future issues with home connectivity not when they happen, but at the crucial moment of installation. By proactively preventing issues, rather than just reacting when they happen, end users can experience flawless connection from day one.
Certify is officially available today, and you can read more about it here.
For the future: onwards and upwards
We couldn't be more excited for the years ahead at RouteThis. I'd like to thank our team, our investors, and of course, our customers—without you, we could not have gotten to this point. I look forward to sharing more exciting news from the team here in the months and years ahead.