How one ISP reduced operating expenses using software-based managed WiFi
Published by RouteThis Team on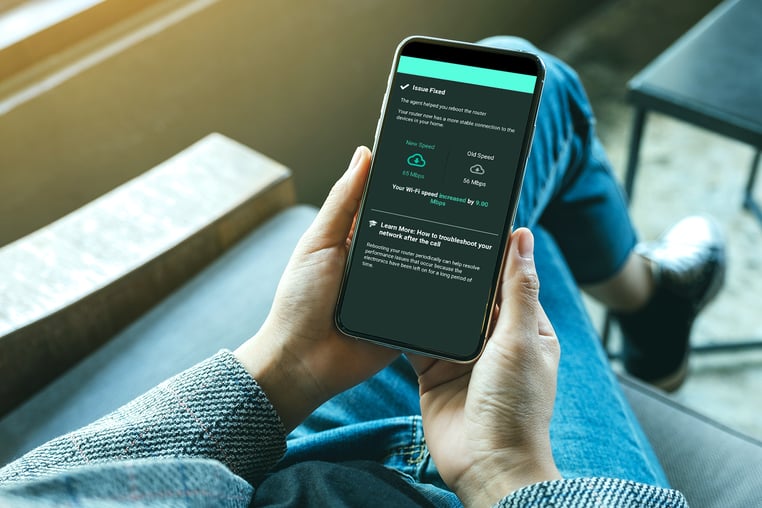 Historically, an internet service provider's (ISP) responsibility for subscribers' networks has ended at the gateway—but subscriber expectations are changing that. As far as subscribers are concerned, if there's an issue with their internet, even if it's with their WiFi, it's their ISP's responsibility to fix it.
This presents ISPs with a unique issue: How do they get the visibility they need into subscribers' home networks to identify and resolve issues without increasing operating expenses (OPEX)?
After all, every home network comes with unique challenges, and it's nearly impossible—and financially impractical—to train agents to deal with each and every one of those challenges.
Instead, agents often have to go through time-consuming Q&A to get technical details, which creates a frustrating, error-prone, and expensive troubleshooting process.
Let's explore how one North American ISP solved the issue of WiFi troubleshooting—while simultaneously cutting OPEX.
CPE: A solution and a new issue
Initially, ISPs introduced managed customer premise equipment (CPE) to give them visibility into these networks. It was an expensive and time-consuming solution, but it did help. However, it also introduced new issues, the most problematic of which was subscriber base fragmentation; after a few years of devices phasing in and out, subscribers opting in and out, and device patches, ISPs ended up with bases that looked like this:
But this option can be massively problematic for ISPs. Studies have shown that even given other options, 80% of consumers prefer their ISP to manage their entire internet experience, including in-home. When 55% of consumers experience daily issues with their home WiFi, and up to 80% of consumers will churn after more than one poor experience, leaving in-home networks to subscribers puts ISPs at risk for preventable churn and potential poor reviews and word of mouth.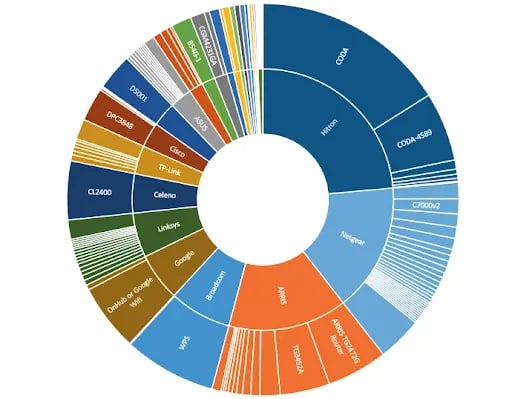 Each of these segments required a nuanced approach to resolving WiFi issues, and ISPs ended up dealing with the same issues and expenses they were trying to avoid with a CPE rollout in the first place.
"We were dealing with going into the managed WiFi world and asking ourselves, 'Managed WiFi is great but it'll take a while to get everyone on it—what do we do in the meantime?' We realized that these issues were not going to go away even if we had a WiFi base managed completely by us."
Sebastian Ivanisky, CTO, VTX1
How VTX1 solved both issues
When Texas-based ISP VTX1 considered how they could manage WiFi networks in a cost-effective way without relying entirely on CPE, they turned to RouteThis, a software-based solution that provides visibility into subscribers' home networks. Initially, they rolled out the RouteThis platform to field techs to help gather initial statistics, explore different situations, and build out training materials. But that quickly expanded into full-fledged adoption across the board.
"It makes more people in our company capable of fielding this sort of question from customers even though they may not strictly be technical support staff," said Sebastian Ivanisky, CTO at VTX1.
In some cases, even with devices that we own, we've been able to uncover things that the managed WiFi interface we were using at the time did not necessarily uncover in an obvious manner.

Sebastian Ivanisky, CTO, VTX1

We have managed to take WiFi troubleshooting to a level that could only be possible if every one of those routers were devices we owned. That's not the case, and it's increasingly more difficult to think about it ever being the case.

Sebastian Ivanisky, CTO, VTX1
The bottom line: How this has improved their OPEX
Overall, implementing RouteThis has helped VTX1 save on unnecessary operating costs in a few different ways.
| | |
| --- | --- |
| The team at VTX1 uses the RouteThis platform after each installation to create a snapshot of the network, which helps root out potential issues in the making, establishes a baseline for later troubleshooting, and cuts down on time and money spent on resolutions. | |
| | |
| --- | --- |
| | Using the RouteThis platform as a visual aid in conversations with subscribers has helped the team at VTX1 resolve WiFi issues without needing to send a technician, which can be especially expensive in rural areas. |
Managed WiFi without the cost

It's both time-consuming and expensive to introduce managed WiFi solutions, especially if you're not charging subscribers for their devices. VTX1 avoided both costs by introducing RouteThis instead.