Insider insights: Smart home device owners want to resolve tech issues on their own
Published by RouteThis Team on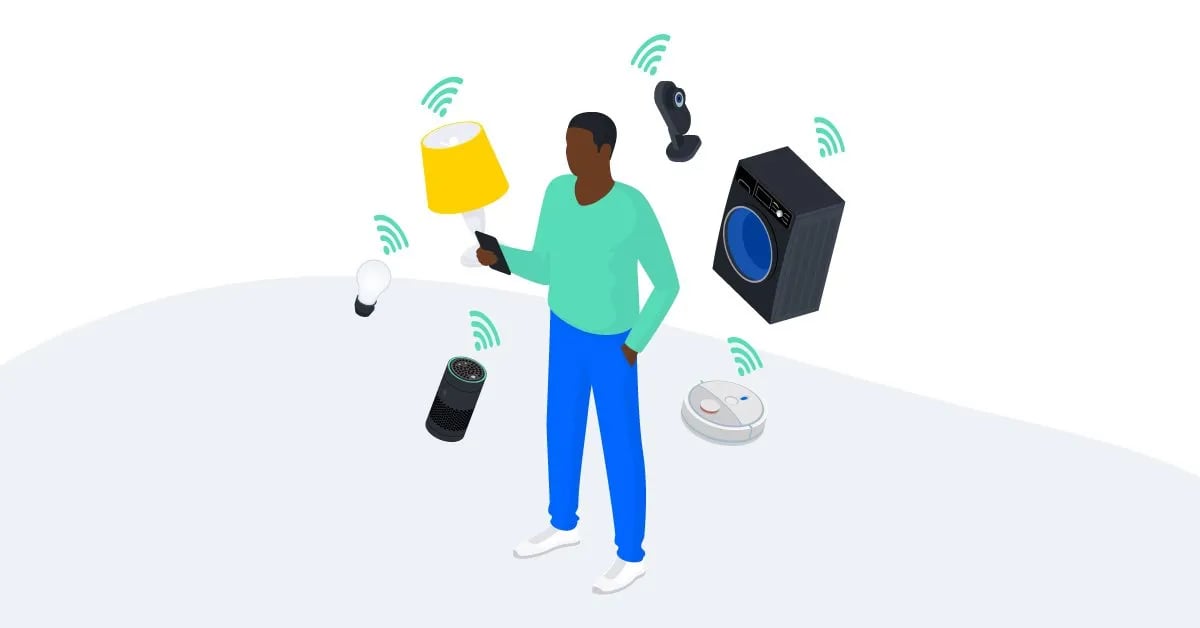 For those who love to live in a connected environment and need to have all the latest smart devices and appliances, there's one thing they probably wish they had even more: the ability to fix their technical issues when those devices aren't working (and not have to invest a lot of time doing it).
As the number of connected devices in households increases, so does the number of reported technical issues. Research shows that one-third of smart home device owners experienced technical difficulties in 2022, compared to only 14% in 2018. This is just one of the many insights uncovered in a white paper RouteThis recently collaborated with Parks Associates.
Many connected device owners have a strong desire to resolve technical issues independently. The research found that 91% of smart home device owners who experience technical problems with their devices will try at least one self-help approach. And while the end-user resolves 47% of technical issues on their own or with the help of family and friends, 42% still require support from a professional technician.
The most reported issue? Loss of WiFi connectivity
It was no surprise that the number one technical problem reported by smart device owners is the loss of WiFi connectivity. This accounts for 51% of smart home device issues, a fact that consumers are often unaware of and will blame the product itself for device failure.
As you can see from the chart below, smart home product owners are more inclined to try and figure out the issue themselves, only seeking professional support when they cannot get to the root of the problem.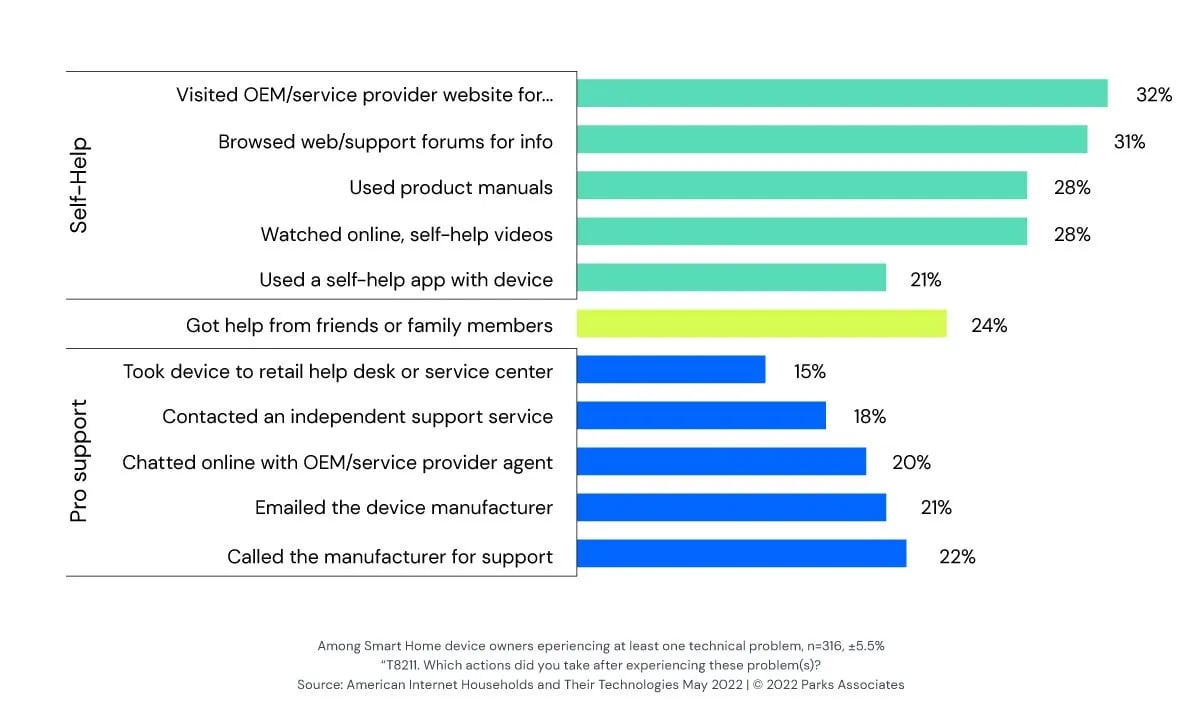 Addressing the need for self-service solutions
It's clear that there's a need for consumers to have access to self-service solutions. For smart home brands, this means providing customers with more effective tools to solve problems independently.
Smart home product owners need tools to help them diagnose the issues impacting their networks and devices, with clear guidance on how to fix the problem. It's no wonder self-help apps, which often have advanced diagnostic features, have experienced strong growth in the past four years.
21% of those experiencing a technical issue with a smart home device used a self-help application to resolve the problem – nearly double the rate of self-help app usage in 2018.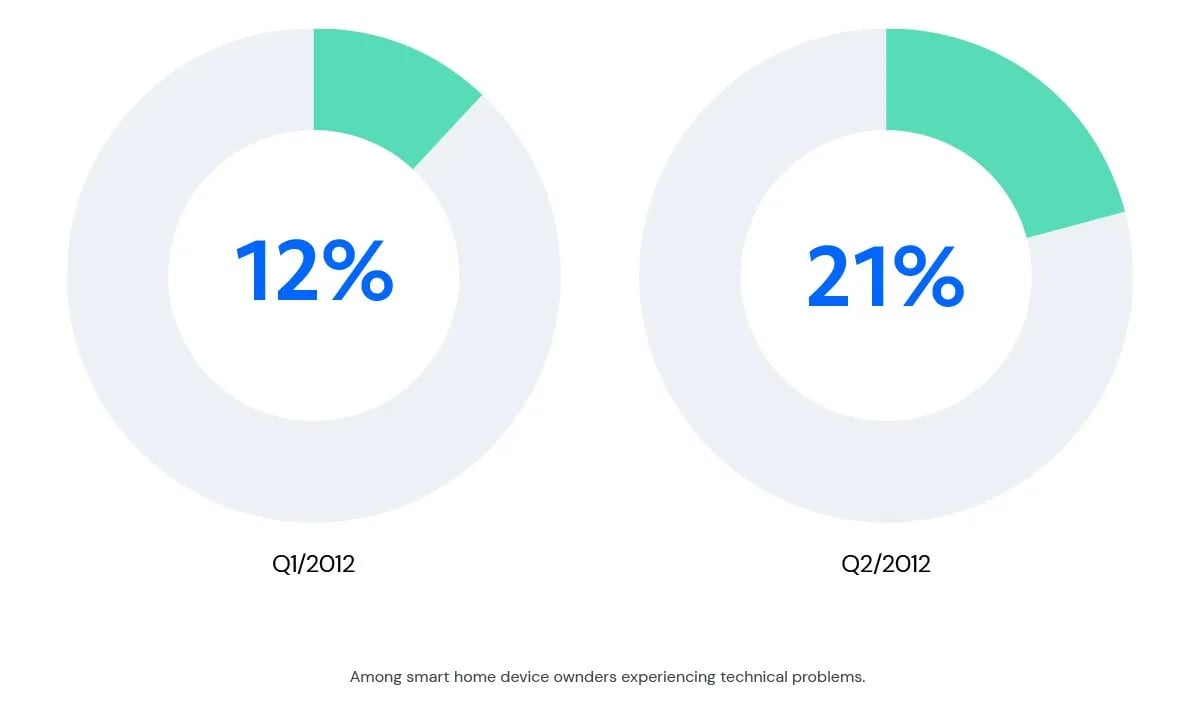 The benefits of self-service support for smart home brands
There are several reasons why a self-help support option is beneficial for smart home brands.
Reduce the number of product returns

. Smart home devices are especially prone to higher return rates than established product categories. The number one reason consumers cite for smart home device returns is that the product's 'not working as advertised.' Self-support solutions that help users address technical issues or inform them where a specific problem might lie (for instance, with the network, not the device) can help to bring down product return rates.




Lower support costs

. Self-service options aim to resolve issues before they escalate to support agents, freeing up resources to address the problems directly related to the product itself.




Give technicians greater insight into the actual problem.

Comprehensive network and device diagnostic reports offer technicians more insight into the exact problem the end user is experiencing.

Self-help diagnostic tools

help support and tech teams reduce service times, improve the efficiency of support operations, and enable support staff to address more complicated issues that end-users cannot resolve on their own.




Improve customer experience

. Taking the frustration out of diagnosing technical problems and saving customers valuable time will improve the overall customer experience and keep them loyal to your brand.
Consumers will try to solve issues with their home network and connected devices before seeking professional support. Not only will providing self-service support options lead to a better overall customer experience, but it can also result in a more efficient support operation for smart home brands.