When customer experience breaks down, part 2: The smart home product return process
Published by RouteThis Team on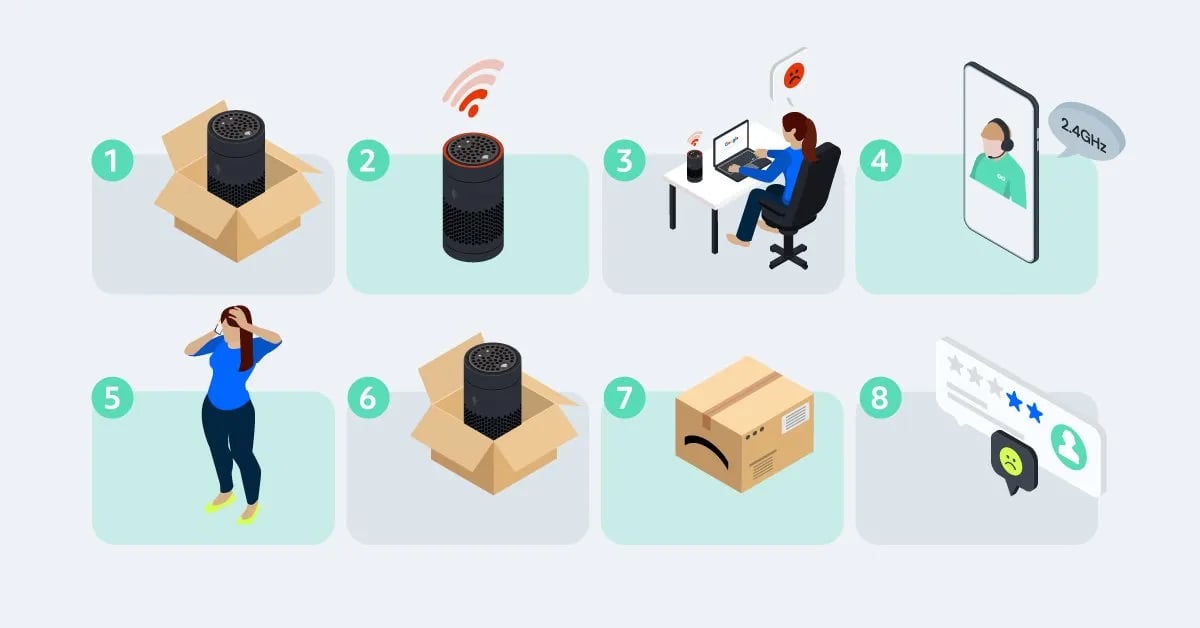 There's a stat we've been talking about lately that should be concerning to any smart home brand. Namely, the fact that 2-4% of all broadband households end up returning a smart home device. And of those returns, 51% are due to WiFi connectivity issues.
Picking up from Part 1 of our Customer experience breakdowns series, the individual in our customer journey scenario was unable to get their issue resolved, despite spending a considerable amount of time with customer support. In reality, the issue was related to their WiFi set-up and had nothing to do with the product itself—but as far as they were concerned, it was the device that let them down.
Where the product return process breaks down
At this point, the customer feels like they've wasted far too much of their time on this issue and decide that they'll just return their device and get their money back. What they didn't count on, however, was that returning your product comes with a whole new set of inconveniences. Let's imagine that their experience went something like this:
In order to be returned, the smart home product needs to be repackaged. Unfortunately, the customer discarded the original packaging, sending them on the hunt for a suitable box for the return shipment.





The customer is then required to go to their nearest post office or courier depot. Depending on where they live, the "nearest" location may not be all that near.





In some cases, the customer is responsible for covering shipping costs.





Some brands also require customers to pay a restocking fee which means they won't be getting their full refund.
All of this just adds further frustration and friction for the customer and strengthens their resolve to stop purchasing your product or engaging with your brand.
The business impacts of smart home product returns
Aside from the obvious fact of having to refund the customer's money, there are other financial and reputational impacts that can come out of this situation.
Inspecting, refurbishing, repackaging, and restocking

. As we saw in our example scenario, customers don't always anticipate that their purchase isn't going to work and that they might need to return it. As a result, they don't take care to ensure the packaging stays intact. Instead, it gets destroyed as it's unboxed and often discarded altogether. And when the customer does return the product, there's an added risk of it being damaged in transit because it wasn't packaged properly. Before you can resell the returned item, you need to ensure that it's been inspected and that it's in perfect, resalable condition. If it's not, it may need to be refurbished. And of course, it will also require new packaging materials. This inspection, refurbishing, repackaging, and restocking process takes time, materials, and effort… all of which are impacting your bottom line.




Shipping costs and restocking fees

. This is a bit of a tricky one… if you offer free shipping for returns, it might be more favorable for the customer but comes out of your profit margin. On the other hand, if the customer is forced to pay for shipping or a restocking fee, that further alienates them from your brand and leads them to leave a negative review.




Lost revenue on refurbished products

. While you can resell returned items by refurbishing them, you'll have to sell them at a reduced cost.




Impacts on retail and/or dealer relationships

. If you're selling your smart home product via a retailer or a dealer, too many product returns can impact their relationships with their customers–which could lead them to stop doing business with you.
Reducing friction in the product return process
Ideally, you don't want to have any product returns… but the reality is, they're still going to happen. When a customer has already had to endure the frustration and disappointment of their purchase not meeting their expectations, making the return process easier can help to reduce or eliminate any added aggravation.
Granted, some of the suggestions offered below will incur added costs on your part–however when you consider the possibility of losing a customer permanently or they're giving you a negative review that could deter other potential customers, it's a relatively small price to pay.
Make the return process easy.

Include step-by-step return instructions and return labels with the product packaging.




Ship out a new return box.

To help reduce the possibility of the item being damaged due to improper packing, ship out packing materials that will ensure it gets back to your warehouse safely and intact.




Offer free return shipping.

This is becoming more commonplace and more consumers now expect that they won't have to cover this cost.




Arrange for the item to be picked up

at the customer's location especially if it's a big-ticket or larger item like an appliance.
At the end of the day, you may not be able to save the customer relationship but you can use these experiences to learn how to improve the process moving forward.