Execulink: How our customer experience journey is evolving
Published by RouteThis Team on
Matt Gardner talks with Andrea Atkinson, VP Customer Experience at Execulink Telecom about their customer experience journey.
This article is adapted from the accompanying webinar.
Matt: What does customer experience mean to you and Execulink?
Andrea: The quality of our customers' experiences affects whether they stay with us, how likely they are to buy additional services, and if they'll refer us to their friends and family. It starts even before they subscribe, all the way through installation, tech support, and billing. Every customer interaction counts, whether they're interacting with a live person or via our website or app.
Matt: Which key performance indicators (KPIs) do you track?
Andrea: We look at the kudos and accolades, the number of complaints, the repeat callers, the time taken to resolve issues, and the number of truck rolls. For us, speedy resolution is key.
Matt: Where do you think companies are falling short today in CX terms?
Andrea: Top of mind for me are lack of responsiveness and slow resolution of issues. It's important to fix problems quickly, to get it right, and to get it right the first time. No one likes waiting.
Matt: What are some key trends you've seen in residential WiFi over the past couple of years?
Andrea: Customers installing their own routers and mesh WIFi systems (BYOD – bring your own device) is a growing trend. When issues arise, it takes more time to troubleshoot. Also, customers don't like to hear that the problem is with their equipment. So on the technical side, it's getting more complicated.
Self-support or self-help is also growing. Many customers like to figure it out themselves, at their convenience. On this front we integrated the RouteThis app functionality into our own app, and tools like this are not a nice-to-have but a must-have in order to stay competitive.
Finally, there's the need for speed. Or at least the perception of it. With WiFi 6E there will be plenty more bandwidth to deploy around the house.
Matt: The first trend you mentioned was BYOD. Is the CX journey different for those subscribers that use their own router or mesh WiFi?
Andrea: There's third-party equipment involved, so they're more likely to call in with an issue, it takes a longer time to fix, and there are more follow-up calls.
Matt: How do you manage your support team? How do you attract, train, and retain good support agents?
Andrea: A year ago I would have said training, coaching, call listening, offering incentives, and more technology and tools – and that's still true today. Then we outsourced and about half the calls (including all billing-related calls) are handled externally and half in-house. That freed up our staff to handle technical calls, which they enjoy far more than billing calls. Agent turnover has dropped like a stone. Customers are happier too because they're not interacting with new agents, and the resolution times have improved. Call duration has dropped by 20%.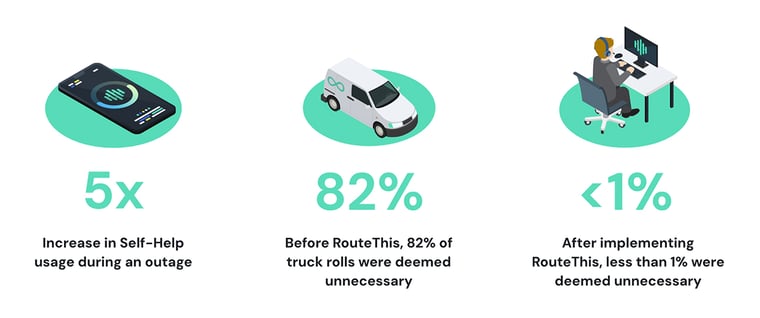 Matt: What results did you get since you started using RouteThis?
Andrea: I'm glad you asked this question because I'm a big fan. Our initial reasons for deploying RouteThis was to deliver better CX by giving our customers a self-support tool and our agents a remote support tool. Of the customers that use the ExecuLink Helps app, 86% resolve the issue themselves and don't call us, which is terrific.
Here's a fun story: recently a fiber cut at our wholesale fiber provider took down service. We saw a 5X increase in self-help activity, which thankfully reduced the load on our agents. On social media we posted status updates, and some customers commented and recommended using our self-help app! I love it when customers advocate on our behalf.
There used to be contention between our field team and our office team. The field team believed that some 82% of the support-related truck rolls were unnecessary. As our agents gained visibility into the home WiFi environment via remote support, this number dropped to 1%. The numbers were impressive, but reducing friction between two departments is invaluable.
We started with RouteThis on the support side, and now we're seeing opportunities on the revenue side. The data told us that 10% of self-help users were not even our customers – that's an excellent customer acquisition opportunity right there. RouteThis provided a potential solution for us to market and sell our products and services to this 10%.
That's the value-add of working with a really great partner like RouteThis.